The latest and best Cordless Vacuum Cleaners
Tested and Reviewed by Fred-in-the-shed
Updated 1st April 2017
I have tested the following machines.
Gtech Multi and Air Ram Mk2
DYSON DC16, DC30, DC 31, DC35
Makita BCL180 18v Li-ion
Several Black and Decker Dustbusters
(including 7.2v Cyclonic,12v,14.4v & 18v Dustbuster Pivot)
Gtech floor sweepers, SV01 & HV01
DeWalt 18v Cordless Vacuum cleaners
i Robot Roomba 880- Robotic Vacuum Cleaner
Ryobi CHV 182M
Bosch GAS 10.8v
Over the last 20 years I have owned and used dozens of these machines and have seen them evolve from disappointing gadgets into powerful and effective cleaning tools.
I have had most of the ubiquitous Black & Decker Dustbusters and currently have an 18v model with pivoting head.
The Dustbuster is the most popular entry level cordless vacuum but due to it un-replaceable battery has a limited lifespan. The Dyson handhelds and Gtech Multi have replaceable 22v batteries and the 18v Makita BCL180 uses the most powerful 18v battery available that is used in serious builder s tools like drills and saws.
Results from my long term, extensive testing of cordless vacuums show that the quality of the battery and the filter are most important.
Currently under testing -
Bosch Athlet 25v Upright Vacuum & The Gtech Air Ram Mk2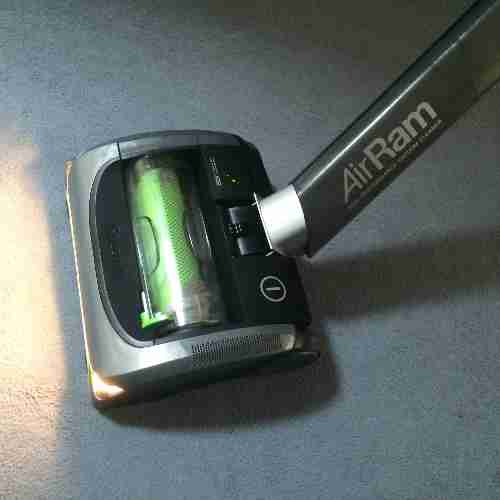 The Gtech Air Ram Mk2 hits the Fredshed bedroom carpet
I love the LED headlights and was amazed how well it collects debris of all sizes. This updated model is so light and easy to use, even from my wheelchair. It is a bit noisy on hard floors but has many more good features such as easy emptying of the collection box and big on/off button and battery charging indicator light. The long handle pivots and lowers to get right under furniture and locks into place to stand upright for storage and recharging.
Bosch Athlete
In comparison the Bosch athlete feels like a more solid well made product and is more adaptable with all its accessories like hoses and wands. However using these tools can be a bit of a mission and for simplicity the Gtech Air Ram MK2 gets my vote. Both machines weight about 3kg, have similar size batteries and cost around £200. Contrary to any marketing hype you may see both vacuums are made in China.
Bosch Athlet verses the Gtech Air Ram Mk2
Click for more info on Gtech Cordless Vacuum Cleaners
Bosch BCH625KTGB Athlet Upright Cordless Vacuum Cleaner, 0.9 L - White
See My New Page - Fred's Top 10 Practical Gifts
SEE MY NEW PAGE ON KITCHEN TOOLS & GADGETS
My Dyson DC35 - purchased March 2011 and still going strong
Is this the best cordless vacuum ever?

This is the Makita BCL180 using the fantastic 18v Li-ion battery that powers the huge range of professional tools. It is also available in a 14.4v version and replaces my old 12v version that I loved and used for years.

I am currently using it every day and testing and comparing it against the 22.2v Dyson DC35 - Digital Slim.

Both vacs have plenty of suction and come with similar accessories. The main difference is that the Makita has a bigger battery that runs for longer than even the most expensive the Dyson. The Makita battery can be used in around 50 other powertools!

The Dyson is easier to empty and has a neat wall mounted charger. If had to chose between them it would have to be the Makita , mainly because I already have the battery and charger from my Makita Drill. I also use the battery in a lamp, chainsaw , leaf blower and jigsaw.

If you don't have any Makita tools or batteries already you will have to buy the vacuum separate to a battery and charger but the total is still less than the entry level Dyson, (£160 vs £220 approx )

MAKITA BCL180Z 18V Li-Ion Cordless Vacuum Cleaner (Body Only) Plus BL1830 18.0V 3.0Ah Lithium-ion Battery (638409-2) - Genuine

I empty my vac straight into a plastic bag. The filter has 2 layers.

one is plastic one is cloth , both can be washed and re-used.

My filters have lasted 5 years before I felt the need to replace the cloth one.

(£160 vs £240) approx

Dyson handhelds and the Makita BCL108Z come with extension pipes and wide floor attachments.

The Dyson crevice nozzle is longer so better under car seats.

* the Makita battery * charger are sold separately

The Dyson battery has 4v more current but way less power. (in amps)

Both batteries are around £50 to replace.

The Makita battery can be used in 50 other tools.

My Makita batteries are 6 years old and are still working well.

The blue Makita vacuum shown above is now 7 years old and I use it at least 3 times a week.

I love both these vacs
Dyson Launch 5th generation handheld cordless vacuum
Dyson DC59 - with new type battery
(Now known as the V6)
My Original Dyson DC16 Handheld (21volt)

Dyson Handheld Cordless Vacuum Cleaners Tested

Dyson DC16 Handheld (21volt) DC30, DC31

, DC35, DC44 , DC59

Over the last 10 years I have owned and used the original DC16 and a number of the upgraded models that followed. My DC35 has been fantastic and is used at least 3 times a week in my house, car and workshop.

Overall I love the design and the fact that the filters do not need cleaning as often as other makes and the suction stays strong

The first models had very short battery life, so I was pleased to see the new more powerful models appear. The latest versions have improved digital motors and Hepa filtration too.

The Dyson V8 is now the most powerful Dyson cordless vacuum cleaner, It still uses a 21.6 volt battery but it costs nearly £500!

The Dyson best features are the "gun like" feel, unrivalled filtration and easy emptying . A small thing I don't like is that the trigger has to he held in and cannot be locked on.

The Dyson is great for cleaning the cars. Visiting friends often ask to borrow it!

Further Update DC59 - more cyclones for extra suck! )This model has now morphed into the Dyson V6)

2016 - 2 New Dyson V8 models released

Dyson V8 specification confusion?

From what I can tell the difference between the V6 and V8 is the easier opening debris container and that the battery is now a 21.6v Nickel Cobalt Aluminium model and no longer Li-ion.

I will attempt to find out more!

USE LINKS BELOW FOR THE LATEST DYSON MODELS

Dyson V8 Absolute Cordless Vacuum

Dyson V8 Animal Cordless Vacuum Cleaner

Dyson V6 Cordless Vacuum Cleaner

Another great feature of Dyson vacuums is the availability of all parts

click here for the spares for all Dyson handheld cordless vacuums

October 2016

Gtech Multi - Test and Review

This handheld cordless vac has a 22v Li-ion battery similar in size and power to the Dyson handheld models.

It is at least £100 cheaper and looks similar. When using the tool it is clear that it has less suction than a Dyson with its patented dual cyclone feature.

The Gtech Multi has enough suction to do the job and the powered head attachment is great at brushing up particles into the air flow.

So far I am impressed with the Multi, it is comfortable to use and collects more dust and debris than I expected.

One improvement over the Dyson is the ability to leave it switched on , with the Dyson you have to hold the trigger which I for one find a bit tiresome.

The main issue is that the foam filter needs to be washed regularly to maintain its suction and it takes ages to dry. I will be buying another spare filter and would like to see products like this supplied with 2 from the start.

Click for more info on Gtech Cordless Vacuum Cleaners

The Gtech Multi undergoing its first Fredshed trial

With the small motorised brush head it is perfect for stairs

It is well balanced and easy to operate

I am very impressed

First4Spares Premium Replacement Mk2 Foam Filter for Gtech Multi Handheld Vacuum Cleaners (2016 onwards)
The Latest and Best Cordless Vacuum Cleaners tested by Fred
( I am on a mission to find the overall winner)
October 2016 Update - new Dustbuster due to launch soon!
Black & Decker Dustbusters

The Dustbuster is one of Black & Decker's longest running products and has seen many incarnations.

It is designed to be used for cleaning up minor spillages or quick tidy ups. It has a rechargeable battery and comes in many sizes.

From my experience the batteries last 3-5 years if regularly recharged but sadly are not replaceable.

B&D make the batteries and motor as one module so it is uneconomic to replace. Handy for them as you have to buy a new vacuum.

The pivot nose version takes up less space and is ideally located on a shelf whilst the conventional longer Dustbusters are best wall mounted.

Pivot Nose Dustbusters

These compact little vacs have great suction and the double filter system works well.

The folding design makes it easy to store on charger, and ideal on a kitchen worktop or shelf. Expelled air and dust is not blown into your face like the old dustbusters.

Some niggles....

Occasionally the lid to the dustbox has not locked in and the dust fallen out.

On my one the storage for the little brush is pants so you can easily lose it.

Both of these problems have been resolved on new models

lid to the dustbox now has a better catch

Nozzle extension and brush are built in and just flip out when required.

use links below

I tested the 12, 14.4v and18v versions which has the same design and filters. The 18v version is highly rated by me, reviewers on Amazon, and popular mechanics magazine.

BLACK+DECKER Lithium Compact Pivot Vacuum, 18 V, Dark Titanium

Black + Decker Dustbuster Filter to Fit PV9625N/ PV1225NPM/ PV1225NB/ PV1425N/ PV1825N

The 18v model is best value and is the the most powerful.

The new version has this neat folding brush on a slide-out nozzle

This solves the problem with loosing small accessories

Standard long nose (cyclonic) Dustbuster

(best wall mounted)

18 volt special edition Black & Decker Pivot Nose Dustbuster

(The newest models are more compact, & coloured white & blue)

Dustbuster Filters

The Dustbusters use the typical twin cone, 1 plastic, 1 paper (or foam) affair that is found in the Gtech, Makita and other vacs. It works well if kept clear but is a messy horrible job to clean properly. The Dyson filter stays much cleaner and needs cleaning or changing less often. Well done James!

New model is much improved with a see thru dust bin and

improved Li-ion batteries

BLACK+DECKER Lithium Compact Pivot Vacuum, 18 V, Dark Titanium

Black + Decker Dustbuster Filter to Fit PV9625N/ PV1225NPM/ PV1225NB/ PV1425N/ PV1825N

KARCHER WV50 ELECTRIC WINDOW VACUUM

A Totally New Way To Clean Windows

This excellent new invention from Karcher of Germany is a sort of cross between a wet -n-dry dustbuster and a window squeegee.

Firstly you soap up the window using a sponge (or the spray gun and sheepskin supplied) and then swipe down the window with the vac and in seconds you will have a perfectly clean window with no smears or mess. All the dirty water is sucked into the integral tank and kept away from the window.

The Karcher WV50 window vacuum is great on tiles and cars too. I now use the Karcher every time I wash my car to dry it off quickly after rinsing. This stops those annoying water spots appearing. I find that the new smaller 170mm head is best on my cars as it copes with the angles of the glass better.

I am a pretty hard person to please when it comes to new gadgets but this one beat my expectations and also impressed my window cleaning friend Chris and Polish cleaning lady ,who calls me MacGyver, due to the enormous amounts of gadgets in my house.

You can see a short video of the Karcher WV50Electric Window vacuum being used at my house by clicking here.

The Karcher WV50 did come with a spray bottle with a built in cleaning head and can be used with just a drop of washing up liquid or you can buy special Karcher window cleaning fluid , designed for this gadget.

The spray bottle/soaping head is now an accessory and one you don't really need as any old sponge or cloth with do.

NEW PRODUCT! - TELESCOPIC HANDLE FOR YOUR WINDOW VAC!

Its a Squeegee that vacuums the soap and dirt clean away!

Great on car windows too!

Now available with a narrower (170mm) head for small Georgian type windows!

The smaller head is better on curvy car windscreens too !

check prices of Karcher Window Vacs with another Fredshed Partner

Buy Karcher Special cleaning fluid for Window Vac
Robotic Vacuum Cleaners Tested and Reviewed

The latest and Best Robot Vacuum Cleaners

In 2011 I purchased a Roomba 581 and it is still running today on all original parts, except a £30 replacement battery. I take it apart regularly to keep everything clean and free running.

In 2015 I bought the similar but more advanced Roomba 880

It came with a remote control and a lighthouse to keep it in the area you want cleaned. I don't use either and tend to just set it off and close it in a room until it is clean. As I travel a lot it is no point me messing about with complicated timer settings as I likely wont be there to empty the bin.

The waste bins (dirt box) on all Robot Vacuum cleaners are small and must be frequency emptied to keep the vacuum working properly. Emptying is easy and so is cleaning the filter.

Roomba spare parts are widely available and reasonably priced. The Roomba can be completely taken apart by a moron ( and re-assembled) and all parts are replaceable.

Several models have evolved from my old bot and most seem to be highly regarded by their users. They are best suited to uncluttered rooms . Most reports and reviews are positive but with any hi tech rechargeable product problems can arise.

As new batteries become more powerful and cheaper these machines will be more affordable and effective - just like the Robot mowers I started using 12 years ago! watch this space!

This is my i Robot Roomba completely disassembled ( less than 5 minutes)

i Robot Roomba 880

Tested Spring 2015

The 3 Robot Vacuum cleaners that I am currently testing- from left to right

i Robot Roomba 581

XR - ( Roomba knock off)

i Robot Roomba 880

iRobot ROOMBA 880 Vacuum Cleaning Robot

(I have also owned and tested the I robot Braava Robot Mop)

IRobot Roomba 620 costs around £300 and is the equivalent of my trusty old 581

If you can afford it go for the 880, it is the best.

iRobot ROOMBA 880 Vacuum Cleaning Robot

A replacement rechargeable battery is around £25-£35 and just clips in.

expect around 5 years of use from the rechargeable battery

The 880 is an updated version of my old 581 and looks very similar. It is vastly improved with a better battery, dust box, filtration, remote control and new rubber rollers instead of brushes.

It cleans like a legend and collects dust from rooms that look perfectly clean.

It has the best system for untangling itself and always docks accurately.

This really is the best robotic vacuum cleaner I have seen!

Cordless Vacuums For Builders

DeWalt Cordless Vacuum

and the Bosch GAS workbench vacuum

DeWalt are a very innovative company who respond quickly to customers needs and provide tools we want. If you buy a DeWalt cordless drill you can also find a huge range of other powertools to go with it. The 18v range is most favoured with tradesmen and builders and is widely available. Three of the Fredshed test team of tradesmen use these tools and swear by them. (The others swear at them - or just swear)

This large model that can run off the mains as well, both are wet and dry!

The large model is both mains or battery powered.

I am also testing the mini Bosch GAS 10.8v cordless vacuum. At first I was underwhelmed by

the poor suction and small size but the more I use it the more I like it as a handy little tool to clean up the crumbs off the dining table or sawdust after a small DIY job.

I will report more here soon.

Bosch GAS 10.8v cordless vacuum

uses battery from the Bosch Blue range of professional power tools

Bosch GAS108VLIN 10.8 V-LI 10.8v Li-ion Vacuum Bare Unit GAS108

NUMATIC HVR200-11 Henry Vacuum Cleaner, Bagged, 620 W - Red/Black
Gtech SWO2 Floor Sweeper

Now replaced by the GTECH AIR RAM MK1 and MK2

Sometimes the simplest machines are the best and this little battery powered floor sweeper fits that description.

The Gtech SW02 is so light and efficient, you can wizz round the room in seconds without the noise and effort of plugging in a heavy vacuum cleaner.

I was amazed how much it picks up and it is so easy to empty thanks to its nifty dirtbox that just slides out.

This machine can be used with one hand and is perfect for all sorts of people including wheelchair users like me!

No bags, no cords, no filters- just picks up dirt the easy way -by brushing

This great little floor sweeper is no longer available and has been replaced with the battery powered

GTEC AIR RAM

use link below for latest model Mk2 that now has a much improved collection box

Click for more info on Gtech Cordless Vacuum Cleaners
If you found my advice helpful and would like to support my work, please return to this page and use my links when purchasing your tools.
Also any other products bought from Amazon at the same time will produce a small commission that helps cover my hosting costs.
Or if you prefer, you can make a small donation using the PayPal button below.
Thanks - Fred
| | |
| --- | --- |
| Click on the shed to return to the homepage | |
Other Pages
Builders bits cordless chainsaws Digging Tools forks & Spades
DIY products garden shredders lawn tools new products mowers
cordless hedgetrimmers Powered garden equipment
pruning tools Weekly tips page
© Fred Walden 2017