Hacksaw Test - Fred Finds the Best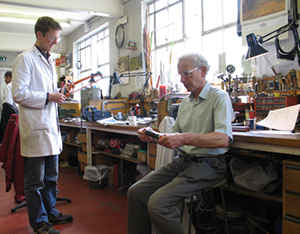 The humble hacksaw is one of the most important tools in any workshop. Even if you have all the latest expensive machinery you will always need a hacksaw.
The basic hacksaw is a simple and effective tool and its performance is mostly dependant on the quality and tension of the blade.
The standard size for a hacksaw blade is 12 inches and they come in various teeth sizes to suit different materials. 24 teeth per inch is the norm.
Softer material like copper requires a coarser blade with less teeth, like 18 teeth per inch. Hard materials like stainless steel require 32 teeth per inch.
The Bahco 319 hacksaw is very comfortable and has a concealed but easy to use blade tension adjuster.
This is a no-frills mid range hacksaw suitable for DIY and professional use. I lent a range of hacksaws to my friends at Oxford University Engineering and this one came out top due to its rigidity and comfortable grips.
Bahco 319 Hacksaw Frame
buy the best bi-metal hacksaw blades
Powered Hacksaws - The Scorpion!
The Scorpion from Black & Decker has been around many years now. It's 3 easy change blades do the job of a wood saw, hacksaw and jigsaw. Only problem - the Scorpion is a bit of a Porker at nearly 2kg, so unless you have a lot of cutting to do it may be easier to use a hand tool.
The Scorpion performs the function of a jigsaw with the added bonus of being a powered hacksaw. Ideal for DIY and great for people who don't have the strength and/or have lots of the same thing to cut up, like firewood.
The Black & Decker Scorpion is an effective tool but could be more robust. A new, more powerful model has been launched that seems to have resolved this.
The other disadvantage is that it uses specialist blades that are expensive and can be hard to get.
Black + Decker KS890ECN Scorpion Saw
Black + Decker Scorpion-Powered Hand Saw with Kitbox and Auto-Select, 500 W
Piranha X29991-XJ Scorpion Value Pack
A more sensible option is reciprocating saw (Sabre Saw), as these use standard fitting, easily available blades.
The Makita 10.8v cordless one I recently bought is fine for small jobs but generally an 18v or a mains powered saw is the norm. The most important thing that some people overlook is to make sure you have decent blades and don't try and use them when they are blunt as it will damage your saw.
Makita JR103DZ Reciprocating Saw, 10.8 V, Blue
Bosch PSA 700 E Multi-Saw
Saxton 10 Blade Reciprocating Sabre Saw Combo Wood & Metal fits Bosch, Dewalt Makita
Easy-Out Damaged Screw Remover
5PCS Screw Extractor Easy Out Set
Screw heads frequently get damaged when people use a worn out or incorrect bit to remove them.
Sometime the screw has just rusted solid like my ones in the image above. The best way to remove a stuck or damaged screw is with a special little bit called an Easy-out. It looks similar to a Philips head but rather cleverly cuts into the screw to make a solid contact and then undoes and removes the screw.
There are many companies making these tools and they are available in different sizes.
Ratchet Spanners - Save Time and Effort
These spanners have a clever little ratchet mechanism built into the ring spanner end. This means that nuts can be moved very quickly with short movements of the spanner.
Due to the extra parts they are not the cheapest spanners but could save you a lot of time and arm action.
The only downside with ratchet spanners is that they are less robust than a standard one piece spanner so don't use them for tightening or loosening really tough nuts- i.e. not suitable for high torque situations.
Approved by my testers at Oxford University Engineering and also BJ Autos - (Barry and Gary in the garage that services my cars.)
Bergen Professional Trade Quality 12 Piece Metric Combination Ratchet Spanner Set, 8-19mm - BER1890
Am-Tech Offset Ring Ratchet Spanner (5 Pieces)
Blue Spot 04312 6 Piece Flex Ratchet Spanners
Universal Socket for rounded or damaged nuts and bolts
GATOR GRIP 7-19mm Universal Socket with Handle
I use this superb tool to remove rounded nuts and bolts and as a second spanner.
There are not many gadgets like this that impress me but I have had this one 10 years and it has saved me loads of hassle.
The pins move to fit around the nut or bolt head and sometimes even work on bent screws .
The socket does nuts from 7-19 mm but will also fit the old imperial sizes too.
My one came with a handle but now you can get them with or without and with an adapter to fit a drill chuck.
Best Quality Files - a workshop essential
After extensive use I can report that the new Bahco files with the soft touch handles are really good and seem to be very durable.
Files are one of those tools that require a lot of effort to use so you owe it to yourself to get the best.
This set of 5 Bahco files covers most applications and have holes in the handles for easy hanging above your workbench.
The engineering file is another essential tool for a workshop and they come in a massive range of shapes, sizes and cutting types.
The main problem with files is that the wooden handles are often vibrated off over years of use and can become annoying or even dangerous.
A good solution is these top quality, plastic moulded soft touch handles that are comfortable and strong.
I have been using these files now for 5 years and wouldn't be without them.
Bahco 5 File set in plastic tool wrap
Angle Grinders Tested and Reviewed
Cheap and Small Angle Grinders for Workshop use
A small angle grinder is ideal for the home workshop as it enables you to cut or grind metals and other hard materials much faster than a saw or file.
Though I am great lover of top quality innovative products sometimes cheap tools are more appropriate- (especially when you're skint).
For cutting and polishing metal or cutting stone and slabs you can't beat the ubiquitous angle grinder.
I bought this 580watt tool for about the price of a curry and can't believe how good it is for small jobs.
However for easier use a cordless model but will generally require a powerful battery, like 18v 4 amp hours or more.
Mains or Cordless Angle Grinder? Which is Best?
DeWalt 18V XR Lithium-Ion Body Only Grinder
DEWALT DCG405N 18V XR Brushless Angle Grinder 125mm with 1 x 5Ah Battery & Charger
Dewalt DCG405N 18V XR Brushless 125mm Angle Grinder, Multi-Colour
Dewalt DCB184 5.0ah 18v XR Lithium Ion Battery + DCB115 Charger, Yellow
A cordless angle grinder is so handy for workshop use.
Angle grinders are one of the most power hungry tools especially if used to cut brick or concrete so until recently have not been viable as a battery powered tool.
The recent addition of 5 and 6 amp hour 18v Li-ion batteries has been a game changer so for many people the cordless angle grinder is now a must have tool.
It is rather expensive so a bit of a luxury in the workshop but more practical for outside use.
The Dewalt DCG412N is superb and uses 125mm discs that can be changed without using a tool.
Dremel Pro for Intricate Polishing/Cutting/Grinding
For really small cutting , grinding and polishing jobs a hand held multi tool is ideal. Dremel has been the market leader in powered multi-tools for many years.
From the original mains powered hobby tool it has been improved many times and now has an incredible range of accessories.
One of the best versions is the 10.8 volt cordless Dremel using a superior Lithium ion battery.
It comes with charger and accessories in a sturdy case and impressed me with it's power.
I also tried a couple of the cheaper copies of this tool and always go back to my Drem due to the quality of the battery, its reliability and level of control.
This is one little tool every home or workshop should own. I use my Dremel for drilling very small holes, polishing metal, removing rust from small components, grinding out wood in recesses for locks, sharpening tools, and a host of other jobs
The Cordless Dremel is handy for quick little jobs outside of the workshop. If you don't really need a cordless one get the cheaper mains powered version as it has more power and will always be ready without needing a charge. Or if you have a workshop and work outside too get both as the tools accessories are the same for each.
Dremel is made by Bosch and uses Bosch Li-ion Batteries
The latest model is the small Dremel Lite which is ideal for small sharpening jobs
Dremel Lite 7760 Cordless Rotary Tool Li-Ion 3.6 V, Multi Tool Kit with 15 Accessories
Dremel Accessories and Tool Kits
Buying an individual tool for your Dremel in places like B&Q works out very expensive so it is cheaper to buy a whole new kit of tools rather than individually. When you buy a kit or Tin of Dremel tools it will usually say 100 pieces or 250 tools but in fact you will get about 10 tools and 90 little grinding discs or polishing pads. Some people find this a bit misleading and are very disappointed.
Should you buy the genuine Dremel accessories or the cheaper copies from companies like Rolson and Blue Spot?
To test the difference I bought a cheap Blue Spot accessory pack and was quite pleased with it. The tools fit the Dremel and seem to be as durable.
The main drawback to these budget price packs seems to be the poor packaging with boxes that either hold onto the tools too tightly or not at all and boxes that you cant open without everything flying out. If you can put up with this or transfer your accessories to another box then these cheap kits are worth getting.
if you use a Dremel type tool make sure you have good safety glasses as bits of material tend to fly off when you are grinding, cutting and sharpening.
SAFETY GOGGLES by Draper
Blue Spot 216 Piece Rotary Tool Kit
Silicone Rescue Tape
I deliberately cut a hole in this hose and repaired it with Silicone Self Fusing Tape
It held for quite a while until a severe frost got at it. To be fair I should have extended it further up the hose though.
This new product was developed for the US navy to repair leaks and holes in boats. It is now available to everyone and is a potentially lifesaving product that will make a valuable addition to every boat owner and auto repairers tool kit.
The MAGIC property of this tape is that it melts into itself and forms a very strong, watertight and heat resistant seal.
The tape comes in a reel and is not sticky in any way. Only when you stretch it does it begin to melt, stick together and form a seal.
Everbuild 2SWELDBK Silweld Silicone Self Fusing Tape - Black
I also used it to hold the tubes of my wheelchair together as an emergency repair when it snapped in half! This was very successful and now I keep my rescue tape handy at all times.
I am very impressed with this product and will be reporting on its long term performance.
They claim it can be applied to wet material - even underwater!
Quik Tape and Rescue Tape are 2 other brands and available in various colours.
Need a Permanent Fix?
FiberFix Repair Wrap Medium (5cm x 127cm)
FiberFix Repair Wrap Large (10cm x 152cm)
Fibrefix is a new product that is designed to permanently seal holes and cracks in a range of materials.
It is widely used by boat and kayak owners in case of emergencies but I have seen it used to fix broken tool handles and legs of tables and chairs.
Which is the Best Glue?
As a self certified "master bodger" I have been using all sorts of glues for over 40 years and have come to realise that you cant believe the manufacturers claims on many of them.
Most glues are only good for limited applications and these are what they demonstrate at shows and on the adverts. What they don't tell you is that the glue may be virtually useless for most things you buy it for. So remember no glue does everything, and there are some materials like car trim that is made from heat laminated polyurethane and can't be glued at all!
When it comes to Glue you you need to chose carefully for the material and job you have to do.
"Super glue " is an example. If you want a fantastic glue to stick your fingers together or repair a cut on your head, then superglue is the one.
If you have something wooden that has split - forget it. If I do need to stick something small and plastic together then I use the Bison superglue Gel, as it does not dry so quickly and gives you time to position things accurately.
Superglue is best for small components with a close fit. That is why it is called a "contact" adhesive. Bison superglue gel is very good.
Many glues come with applicators that will cause the glue to dry up and have a short shelf life. The best way to extend the life of your glue is to make sure you squeeze all the air out if it whenever possible.
Gorilla superglue has a neat little pin in the cap to help keep the nozzle clear- I wish other glue manufacturers would do this.
I am a big fan of Araldite glue and have used it for over 30 years. Sometimes I can't be bothered to mix it up so often I use Unibond Extreme repair glue which is very reliable and squeezes from one small tube.
Unibond Repair Extreme is ideal for quick & easy, small repair jobs to plastic and a wide range of materials.
Best Glue to repair wooden garden furniture
Recently I have been looking for a strong glue to repair wooden furniture that is kept outside, in all weathers. Gorilla glue is an amazing product that expands to fill any gaps and claims to be waterproof. My repaired wooden furniture has survived 3 years now and so has the concrete Lion head that I glued back onto a statue. Gorilla Glue also make a dedicated wood glue that has a neat built in adapter and anti-clogging device. The specialised wood glue is not as waterproof as the normal Gorilla Glue which is totally waterproof and meets industry standard D3.
So far I am impressed with the result and will conduct long term tests to see how strong this glue is compared to my other favourites.
Fred's Favourite Glues
Unibond Repair Extreme
Gorilla Glue 60ml
Araldite 2-Tubes Rapid Epoxy, 15 ml